Cosmetic Dentistry Services in the Chicago Loop, IL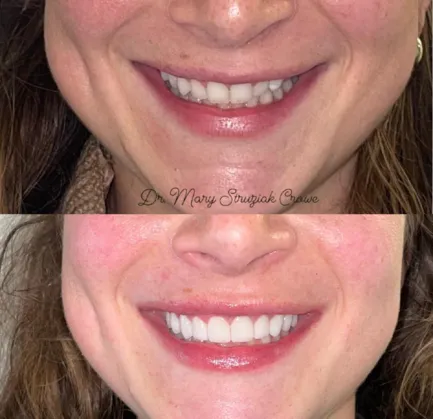 Esthetic Dentistry
Are you considering a makeover? Why not start with your smile! The latest advances in cosmetic dentistry are available to you at our practice. By correcting or improving the shade, shape, spacing, height or width of your teeth, your smile can be transformed into your best asset. Our skillful professionals using state-of-the-art technology and materials deliver superb results that are sure to please. Arrange for a private consultation to discuss your beautiful smile!
Smile Design Consult
Using the latest technology our doctors are able to digitally design your ideal smile before ever touching your teeth. This is a great advantage that thoroughly explores all options to help you meet your goals. We are able to take a look at different treatment options: sometimes basic whitening will do the trick, or porcelain veneers are needed to provide the changes you desire. Smile design technology also allows the opportunity for a "mock up", where you are able to see your new smile on your teeth temporarily without any work done to your natural teeth. You can wear this temporary smile for up to two weeks, and test drive the size and shape of the veneers. This temporary smile is totally reversible and a great way to see what treatment options are best for you. Scroll to the bottom of the page to follow along with Dr. Mary as she designs a new smile.
Porcelain veneers
Veneers are thin shells of porcelain that are bonded to the front surface of your teeth. Veneers are an excellent remedy for chipped, cracked, spaced, stained or misaligned teeth. Dramatic results can be achieved in as few as 2 appointments. Veneers are considered long-term restorations that strengthen, protect and enhance the beauty of your smile.
Composite Veneers "Bonding"
Composite veneers are similar to porcelain veneers but they are made out of white aesthetic filling material. These veneers are completed chairside, which means they are not fabricated by a lab. Your dentist is able to bond the white material directly to your tooth and smooth and shape the material to provide beautiful results. These restorations are long lasting, but since composite is weaker than porcelain they are more prone to chipping and staining over the years.
Whitening
Your teeth become stained naturally as a result of the food and drink that you consume. Dental Whitening uses an ingredient to effectively lift the stain from deep within your enamel. The result is a whiter, more youthful smile! We offer 2 methods of this popular treatment. Our in-office system using a state-of-the-art activation light yields results in about an hour. Our convenient take home system can be used during the day or night.
Rejuvenating Your Smile
Even the loss of one tooth can result in the tipping, drifting and erupting of neighboring and opposing teeth. The loss of several teeth can result in the inability to chew and speak effectively. It can also lead to the collapse of your bite causing stress on your jaw joints, facial muscles and a reduction in the vertical dimension of your face. This can create an older facial appearance with noticeable facial lines.
Invisible Braces
One of the most innovative advances in dentistry is the ability to straighten your teeth without traditional metal brackets. We use a series of clear, plastic, removable "aligners," which are computer generated to gently and progressively alter the position of your teeth until they are correctly aligned. Our patients are seen smiling as much during treatment as after treatment! Ask us if "invisible braces" are right for you.
Lip and Oral/Facial Augmentation
Botox and Dermal Filler Injection Procedures are non-surgical, have no downtime and have minimal discomfort or none at all! Are you ready to smooth out wrinkles and folds from around your smile? Ask your cosmetic dentist how today!
If You Are Interested In Cosmetic Dentistry Services From DiVerde Dental Studio, Call Our Office in the Chicago Loop, IL At (312) 263-7822 Today For An Appointment!